Whitsunday villa is a two-bedroom ONSU home, and probably one of their smallest builds.
ONSU homes are by far my favorite houses if I had to choose only one brand. Therefore, it was a pleasure to decorate this home with mostly Loft & Aria furniture which also happens to be one of my favorites for furniture and decor.
Although I've noticed new creators that offer incredible pieces such as North Oak and Architect, Loft and & Aria has been around for so long that they have a big stock and unlimited decor possibilities. Hence the healthy amount of Loft & Aria furniture I have in my inventory.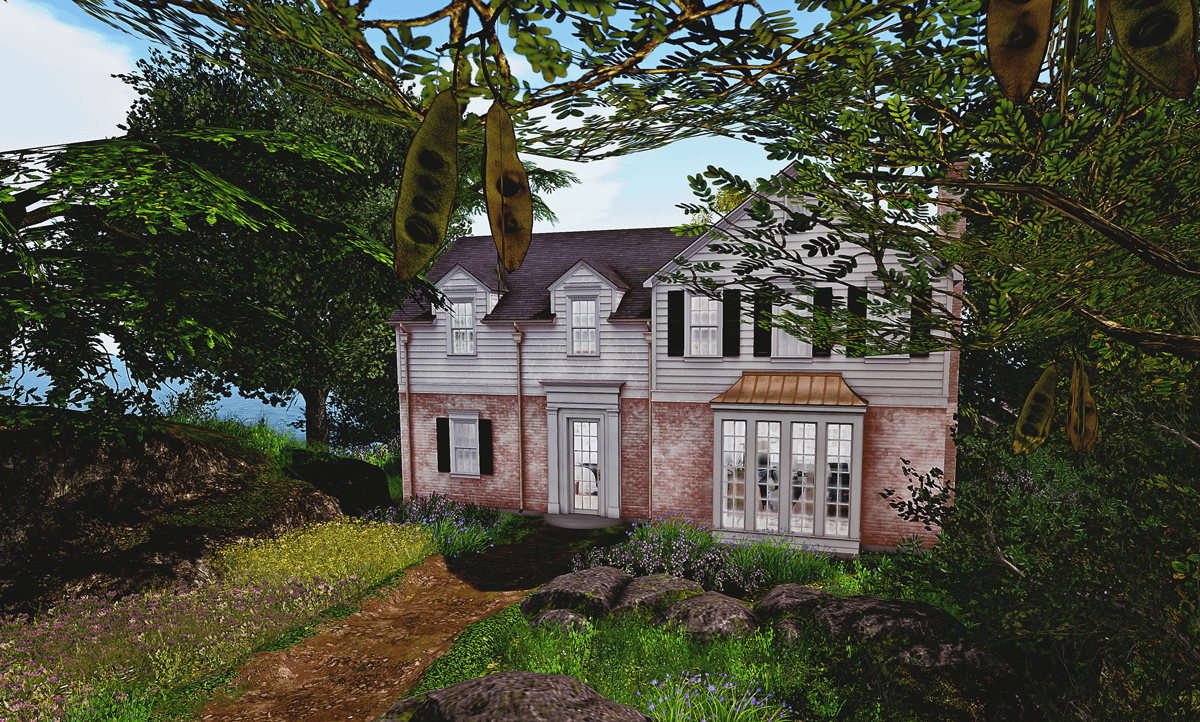 To be completely honest I would have loved this house to have more bay windows and at least one balcony. I have one house from ONSU that may have worked but it is much bigger than the parcel. I have even considered moving into it, and that might happen in time, you never know 😜.
The fountain is a great feature, but if I find one that suit, I'd replace it with a pool. After all, most houses here have a pool even though lots of us live a few minutes walk to the beach.
For now I just wanted to focus on decorating it and since the parcel has 2000 prims, it left with quite a fair to play with.
I had so much fun doing the lounge room.
Favorite part is the sitting area by the window. It was the first time I used the layered blankets with pillows from Loft & Aria Isidora collection. Instead of making up my own prim to sit the blankets on, I used an "old" bench from Loft which I resized and removed the poses inside.
There are three pets from Foxwood I like to use when decorating. One is a breathing-animated sleeping cat, a breathing-animated sleeping do, and a static sleeping dog.
Although you only get a glimpse of the foyer, it is also a favourite space because of the latest piece from Loft & Aria, the Bramble entry collection.  Truth to be told, I didn't realise it had animations until I rezzed it and saw the menu … perfect animations as usual. Love, love, love ❤️.
This is the other side of the lounge room. I have since replace the stools by the Loft & Aria ones. No.59 drink dispensers have been used to fill the bar.
I have not done much on the patio. I used pieces from Les Memoires secret cornet collection from DaD Design, but I don't reckon it is matching. It is something I may change once I see the right pieces or if and when I replace the fountain with a pool.
The dining room is a bit too bare for my liking. I may also have to revisit this room at some point. However, it is totally ready for role-play dining with food dispensers from Lucas Lameth and wine from ChicChica.
Oh my gosh, can you believe I didn't use the Farmhouse kitchen from the Hive Store? Scandalous, I know.
Even though I reckon the kitchen from Hive is still the best deal, I have seen so many new kitchens in 2021 that I wanted to try something different. Hence this is the Fancy Decor & KraftWork Modular Kitchen in Ash colour.
The coffee machine is from No59 just because it is the best one with experience, so it is a staple in all my kitchens. I do have the big espresso machine at the coffee shop on Newall Sands, but it just takes up too much space in a kitchen compared to this one. Clutter is from various creators such as Dust Bunny, Nutmeg, Kraftwork and food dispensers from Lucas Lameth.
Upstairs are the two bedrooms and one bathroom, and will add some pictures eventually. Until then, you can just drop by Whitsundays Islands to have a peak if you like.
Of course, if renting the house you can remove the furniture and add your own.  Being part of Aussie Shores group will allow you to move everything around to your liking, and maybe you'll have better ideas for the patio area.
Availability and prices can be found here.
Drop by Whitsunday Islands to see more.
If you have any suggestions or thoughts you'd like to share, don't hesitate to leave a comment below.