When you're scared of water, Second Life surf sounds like a good option. Surfing in RL looks difficult and so it is in SL, but comparing the two would be a bit unfair, especially since I am no surf expert.
Have to choose surfing waves for Aussie Shores left me dumbfounded because of the many choices that unfolded before me.
Fortunately you have people in Second Life who use their RL passion to create some sort of surf help centers.  It reminds me of the Surf Clubs and the Surf Life Saving communities in Australia.
Do you know you can hire a surf coach in SL? Do you know the differences between the surf boards available in Second Life? What about the surf waves? What makes them different?
In August 2021, Epic Surf partnered with the #AdamsPhotoChallenge, with 38 surf sims participating.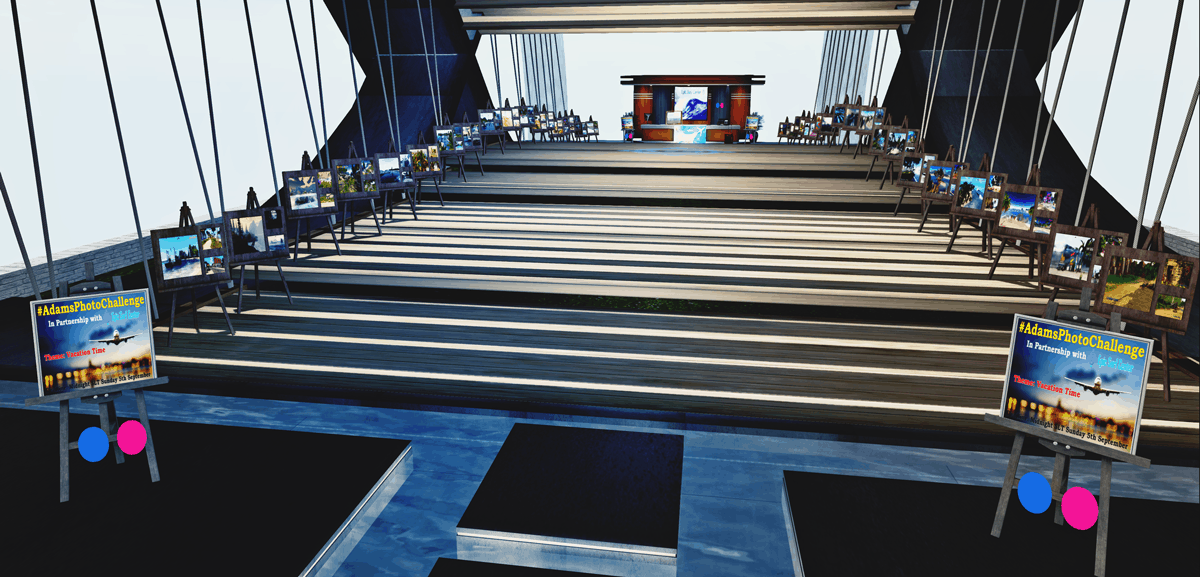 "Adams said it was his biggest photo challenge, so I am super excited to be part of it.
"I went to Adam with the idea a year ago, but he had a full schedule.
"We finally set a date, so this is going to be really fun to see all the photos at all the different surf sims," Founder of the Epic Surf Center Mina Ancio said.
The great thing about the challenge was, yes, to come up with some cool vacation themed pictures, but it also showcased the amount of SL surf sims. From what I gathered, it is not even the whole picture as there are many more Second Life surf sims.
I thought I'd have time to make it to all of them, but unfortunately my RL schedule didn't allow me that luxury.
Mina created the Epic Surf Center in October 2019, a place that promotes the surfing world and all it has to offer in Second Life and has now a full team to support it.
The Epic Surf Center is there to help residents find anything related to SL surf.
"I think surfing is pretty epic, and so was my experience in SL since the day I started surfing," Mina said about how she came up with the name.
There are several types of waves, as well as several types of boards, and add to that surfers' own preferences … there are so many thing as to take into account when it comes to surfing that it makes sense to see many regions accommodating the surfing community.
As with anything in Second life, especially when you are a newbie, it can be hard to find out about specific things, or meet the right people.
"After my first season doing competitions with SLSA, I got the idea that we needed a place where people could find surf related info.
"When I was learning to SL surf, I kept asking many questions, so if I was asking them I was certain others were wondering the same things," Mina says.
Having body corporations like Epic Surf makes it practical to keep track of new regions, and the ones that may close down, or suddenly disappear.
If you're after a specific wave, it is handy to be able to refer to a list rather than having to randomly visit different regions.
Mina may have 38 sims under the Epic Surf umbrella, but there are many more out there, and the #AdamsPhotoChallenge was a great way to discover part of the SL surf community.
I certainly hope that some of the residents participating in the challenge got to try SL surfing instead of just chasing a picture.
Surfing groups co-exist for one thing and that is surfing.
"The surfing community is pretty chill.
"It just comes down to the love of surfing, bringing the community together and having fun," Mina said.
When Mina gets and idea she just rolls with it especially if she believes so much good can come out of it.  She is a driven person who doesn't let negativity stop her doing anything.
"There are lots of negative people out there, but I have been extremely lucky to surround myself with amazing people who really have your back and support you," Mina said.
While I was interviewing Mina, DukeNurven was also present, so I questioned him a little 🙂
"When we met I was making surfboards.  They were ugly [af], so she helped me. We then made some 30 odd boards for her sl17b epic exhibit.
"Honestly though, Mina's passion for surfing is what got me as involved as I am now.
"I'm her biggest fan," Duke explained.
Epic Surf Center is set up to help SL Surfers, new and veteran. You will find everything from highlights to things happening in the surf community to other groups you can join, surf clothing, boards, etc.
If you have not been to Epic Surf Center, I highly recommend you pay a visit. Even if you're not a surfer, there are great surf sims to discover. Most of them offer more than just surfing. They are great places to hang out, rent or take a few shots.
Have you tried SL surf? Let me know about your experience in the comments below. You can also share you surf sim TP, but you have to let us know why we should visit, otherwise I won't publish the comment.