This a new rental project happening on Newall Sands. I ran out of prims with my house, so I relocated on Whitsunday Islands leaving a huge space ready for something new. After all it's 2022: out the old and in the new. Welcome to the new Newall Sands.
At first I was going to use the Trompe which I used on the winter platform. They are cute little house and low prims.
I decided to try this new house which is a collab between Kraftwork, Pitaya and Atelier Burgundy. I use it as my winter cabin and absolutely love it, so really wanted to see if it could work in a tropical environment – without the snow of course.

Beside not being able to change the textures even though I lightly recoloured it, it has quality details and animations.
Turns out it comes out quite well as some sort of beach cabin or bungalow, whichever you want to call it.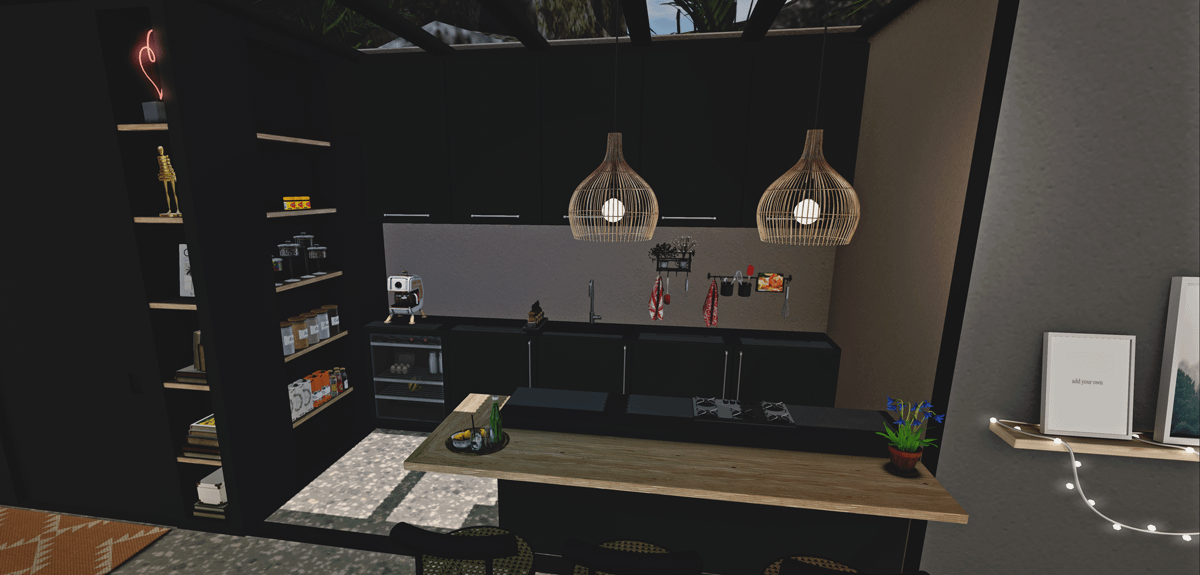 Decorating it is super fun although I have to be mindful of the prims. After all this is why I moved out in the first place.
I used the default light cycle for the whole Aussie Shores, and tend to prefer decorating at night.
I wasn't able to finish the decor because it's already been rented, but I have two more to do, and I'm very excited about what's coming up, so stay tuned.
The parcel has 568 prims, but about 100 of them are used for the house and the landscape. As always you can move the furniture around if you are part of the Aussie Shores group or you can remove them.
Newall Sands does not have a winter platform because it is a homestead and therefore prims are limited but you could possibly rezz a low prim skybox.
Whether you want a holiday or a permanent home, this spot is a great choice, although bungalow #2 and bungalow #3 will also be great little places to call home, so watch out for those.
If you want to check when this bungalow is available, check out this page. There is also an option in the rental box that will let you know when the rental becomes available.
Make sure you read our page on how to rent and the rules to adhere to. I am quite lenient, but we still have main rules to follow.
For questions and more info, don't hesitate to contact us in world or by email.
Have an amazing time in SL.